From Start to Finish
Victoria – 2013 Tax Intern
From Wyomissing, PA – Albright College Lions
Visited/toured Herbein while a high school student!
My internship is going very well and I feel that as time goes on, I am able to do more returns in a shorter amount of time.
I feel much more confident than I did a few weeks ago, which is an awesome feeling. I even have to say that the tax field is growing on me. I never thought I would like tax as much as I do right now. I worked my first Saturday last weekend, and having lunch with other members of the Herbein staff was a lot of fun!
I am also doing tax returns through the scan system, which means all of the documents for the return get scanned in, I verify the information, and then submit the return to the reviewer. It is a pretty neat system that makes the entire process faster.
Last week, I had the opportunity to sit in on a client interview with my supervisor, Stacy Weller, which was a very interesting experience. I went to the meeting with Stacy and we met with the client to get all of her documentation for her tax return. After the meeting, I went through the tax organizer with Stacy and worked with her to fill out the organizer that I will then put into the system.
It was a really great experience to see firsthand the interaction between the firm and the client. The coolest part about this experience is that I will literally get to see the return completed from start to finish. Till next time.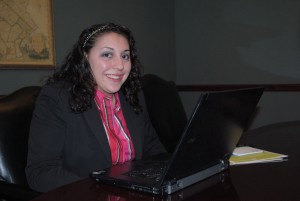 Victoria Foanio, Herbein Tax Intern – Albright College