Drill Weekend and Busy Season
Playing Army
Well, it's Monday morning back at the office after an eventful Reserve drill weekend. As I get back into the swing of things, I wanted to reflect upon the events of drill weekend in the middle of busy season.
To start this all off, I am loving every single second of my internship here at Herbein. Every single day I am learning something new. Last week I got to experience my first travel job, which was great. I have enjoyed all of the different areas and industries in which I have had the opportunity to work.
It was a bit hectic coming home from a travel job right into a drill weekend. Drill weekends are usually hectic and slow at the same time, a constant reminder of the military joke of "hurry up and wait." We had so many things going on this weekend, including doing paperwork for a deploying unit, inspecting and driving military vehicles, and cleaning weapons.
My main task this weekend was helping with the paperwork for the deploying unit, making sure that their pay information was correct, and then I ended up hanging out in the Motor Pool.
You are probably asking what does this have to do with busy season? Well, one of the biggest things I have learned in the military is how to "adapt and overcome." You have to be able to easily switch from task to task, and to be able to adapt if the situation changes.
In the short time since my internship started, I have worked in multiple industries, such as dairy, horse racing, and government. Then within those jobs I have worked in many different areas such as cash, accounts payable, operations, and walk-throughs. I have learned that each area is different at every client and that you can work in multiple areas at the same time.
Being able to switch gears quickly has definitely been a great asset to have, especially when going from working to what I like to call "playing army" for the weekend. And even though it gets hectic, would it be called busy season if it wasn't?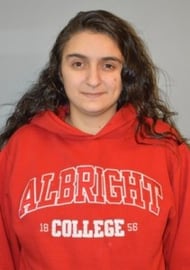 Victoria Piscitelli
Albright College
2014 Audit Intern