Completion of my First Tax Season – Travis Stewart
I can't believe it is April 15th already! It feels like just a few days ago, I was walking into the office on my first day. Time flew by, which has its pros and cons. I completed my first tax season. What a relief! The only con is that my time at Herbein as a tax intern has come to an end.
In the last few months, I gained more knowledge than I had originally anticipated. The hands-on tax work that I have done over this tax season is much more beneficial than anything that could be taught through a textbook. Reading from a textbook only goes so far. The actual preparation of a 1040 with real tax documents has helped me more than sample problems from my tax course. In addition, the experience of the tax professionals that surrounded me helped me through this busy season. I cannot thank Stacy, Dave, Steph, and Jami enough for the huge help that they were throughout the season and especially in the beginning when I knew very little. I am sure they were happy when I was acquainted with everything!
Everybody at this company is friendly and always willing to help. When first entering as an intern, I thought of a stereotypical accounting firm where people are in their offices and do not talk. However, everyone always had a smile on their face! Also, there were NCAA March Madness pools and brackets that brought some friendly competition into the office. This brightened the spirits of individuals who have been grinding through tax season.
Upon completing this internship, I feel extremely accomplished. I made it through my very first tax season and am honored to have had such an opportunity with a great company. I'd like to thank everyone at Herbein for making this internship a great learning experience. I hope this is not a goodbye, but a "See you soon!"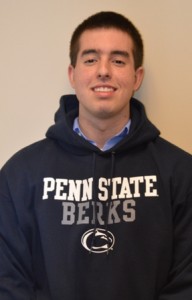 Travis Stewart
Penn State University – Berks Campus
2014 Tax Intern