Auditing Summer Internship
A Different Department. A Totally Different Internship
Hello! I am Fady Wilson and this is my second internship at Herbein+Company! This time I'm in the audit department, however. Having been one of the tax interns in the Tax department two months ago, it feels great to be back in the office and working with wonderful people again.
A few things have been developing and happening with my life. I am going to be a senior year in August! Also, I was rehired to be a Resident Assistant in Albright College. Moreover, I have been elected as the President of the International Students' Association and I have been elected as the Recording Secretary for the Student Government Association. Even though I am certain it will be a busy schedule, I will surely make time to enjoy longboarding, working out or watching Netflix to unwind.
This summer, I am taking a Mathematics class whilst interning at Herbein+Company. I am really excited and looking forward to getting involved into the different sorts of audits, reviews and plans for the different governmental, for-profit and not-for-profit organizations that I will come across in the Audit Department. This experience will be completely different from my previous internship in the Tax Department, mainly because auditing requires more interaction with clients and involves working outside the office as well as inside the office.
I will keep you updated, through more blog posts, on the totally different auditing internship at Herbein+Company!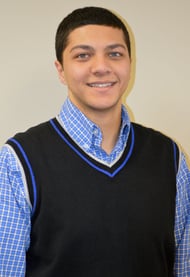 Fady Wilson
Albright College
2015 Herbein Intern – Reading