A Day in the Life of a Tax Intern
Marc Blasko
Sleeping in until class starts? Not anymore. Being in the office at 8 a.m. every day and then going to class in the evening is more like it for a tax intern. It is definitely the first adjustment that needs to be made, which I was able to do rather smoothly since I worked in a bagel shop for two years prior to this internship when 6:45 was considered late. After that and getting used to being just like everyone else that has to sit in traffic every morning it all gets better once I get to the office.
As a tax intern I come in each day say my good mornings and then yes, look directly at the shelf (which holds the workload for the day) that stares at me every morning as I walk through the two doors on the first floor. To this point it has not been too bad but all I keep hearing is just wait, so that I will do. I then proceed to do my data entry for as many 1040's as I can get done in the day, each one becoming a little easier as I learn a little more each time. As much as I enjoy doing the data entry for each one, there is no better feeling than returning it to the respective partner and having that feeling that I am done with that one!
Each person that I have come across in the office on a daily basis has made me feel so welcome just with the simple hellos and goodbyes. I enjoy being here and overall after this first month comes to an end this is everything I expected and then some. This really is a fantastic opportunity for me and a great learning experience in which I hope to continue on into March!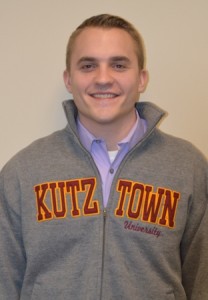 Marc Blasko
Kutztown University
2014 Tax Intern