A day in the Life of a Tax Intern
Stephanie – 2013 Tax Intern
From Emmaus, PA – Kutztown University Golden Bears
Completed her first half marathon this February
Now that I have been with Herbein for several weeks, I feel like I have finally gotten into my own routine and I'm pretty comfortable with what I'm doing.
On a normal day I come into the office, get settled, check my e-mails and prepare for what I need to accomplish that day. My next step is to check the 'Individual Return Log' which is where all of the files are kept of returns that need to be prepared. Some days there were only a few, but now that 'busy season' is upon us, it is normally overflowing with returns to get done. At first I was only taking a few returns because I wasn't sure how long they would take me, but now that I've learned the software and understand how to input the information, I'm able to take anywhere from ten to fifteen clients at a time. Once I have my pile of returns to complete, I use the tax organizers, which are prepared by the interviewers during their interview with the client, and source documents to input all the necessary information into the tax software. When that is done, I go back through the documents and input that same information onto an Excel spreadsheet called Forms 10 and 11. These are then used to reconcile with the tax software to catch any transpositions or missed data. At first I thought Forms 10 and 11 were kind of annoying because I felt as though I was doing double the work. However, there have been multiple times that I have caught errors using them and now I am so thankful that they are there for catch some of my mistakes. After I have reconciled, I have to check the diagnostics. These are things that have been flagged by the system to help ensure that the return is prepared correctly. There are certain ones that I am able to fix on my own, but most of them have to be cleared by the reviewer.
Once I feel as though the return is prepared to the best of my abilities, I forward it to the reviewer, print Forms 10 and 11, and compile all of the documents into the client's folder. This process gets repeated for each return that I have for that day. When my day is over and I've completed all my returns, I deliver them to each of the reviewers.
Reading this post might make you think that my day is very repetitive, but that is the farthest thing from the truth. The process may be the same for each return, but with each client comes new documents and obstacles to get through. So far, interning with Herbein has been an amazing learning experience. I look forward to coming into work and challenging myself to how many returns I can complete each day!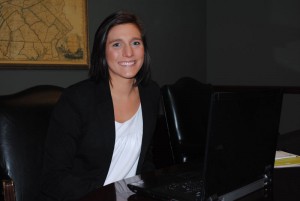 Stephanie Atkins, Herbein Tax Intern - Kutztown University