The Herbein Pandemic Action Plan is a framework for our firm's preparations for and responses to the global novel coronavirus (COVID-19) pandemic.
Our level approach is based on what we know about the virus to date and the speed at which news and information is shared. In the event of severe, prolonged pandemic, our responses will escalate accordingly.
UPDATED March 19, 2020: Click here or the image below to view the complete plan.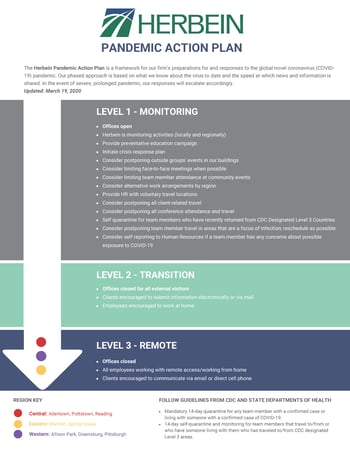 For additional information contact us at info@herbein.com.
--------------------------------------
Herbein is responding to the COVID-19 (Coronavirus) pandemic with our Coronavirus Resource Center, which provides regularly updated information, answers to frequently asked questions and other resources to help during this global health crisis. Continue to check back for more updates in the coming weeks.