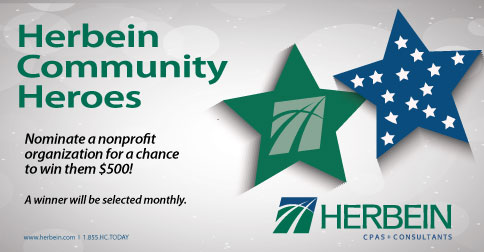 Herbein Community Heroes
Nominate your hero for a chance to win $500 every month!
Do you know a Community Hero? If so, then Herbein's Community Hero program is ready to help their cause. As accountants, Herbein + Company is well-known for helping our clients achieve success. As your neighbor, we would like to work with you to recognize and reward those who are focused on making our communities better.
How does it work? Herbein will award $500 to a Herbein Community Hero every month. In December, all monthly winners will be eligible to get an additional $2,500 grant. The nomination deadline is the 15th of every month. Winners will be announced during the first week of the following month.
How do I nominate? Applying is easy – just visit www.herbein.com/community-heroes and tell us more about your nominee.
Who is eligible? From grass-root organizations to established nonprofit entities, Herbein wants to hear your story. Self-nominations are encouraged. The Heroes program is for one-time donations to groups that Herbein does not generally support.
Criteria for consideration: We seek to support causes that are filling a crucial need in our communities. Specific need for funding should be described rather than requesting general operation support.
Submit for up to three months at one time: No organization may win more than one monthly award, per year. Requests can be solicited up to three months prior to an event. Each organization may submit once during the year, but they may specify up to three months for which they'd like to be considered (e.g. dinner event in May, golf tournament in June, volunteer recognition in September).
Complete the form to enter today!
* Please note due to the number of responses, your organization will only be contacted if chosen for the monthly award.
Spread the word by sharing this link on social media.