2013 Financial Reporting Framework for Small and Medium Sized Entities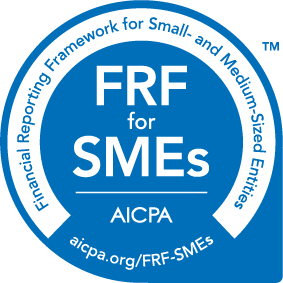 2013 Financial Reporting Framework for Small and Medium Sized Entities
Laura N. Cisco - Herbein + Company, Inc.
For decades, small business owners have looked for a relief from the overwhelming requirements of U.S. Generally Accepted Accounting Principles (GAAP) and have not seen the progress in a way that meets their needs until now. On Monday, June 17, 2013 the American Institute of CPAs (AICPA) addressed the standards overload issue by releasing the much anticipated Financial Reporting Framework for Small and Medium – Sized Entities (FRF for SMEs). The use of the new framework is purely optional, there is no effective date for its implementation, and it can be used now.
What is the FRF for SMEs?
The FRF for SMEs is a straightforward and concise framework for owner-managed for- profit businesses that do not require financial statements prepared under GAAP. It is designed to simplify the process of preparing financial statements by reporting clearly what a business owns, what is owes and its cash flow. Compared to other comprehensive basis of accounting (OCBOA) methods that are currently available, the FRF for SMEs offers a consistent and standardized framework that blends the traditional methods of accounting with some accrual income tax methods. The FRF for SMEs contains more simplified accounting principles and delivers reliable non-GAAP financial statements.
Examples of some differences with GAAP include:
No other comprehensive income presentation
Goodwill can be amortized
Use of more historical cost, less fair value accounting
Simplified accounting for derivatives, hedging and stock compensations
Who will benefit from the use of the FRF for SMEs?
The new framework is intended to help owners more easily to assess performance, determine what they owe/own, and understand cash flows
The FRF for SMEs is designed to supports the applications to lenders. In situations when banks require information on available collateral or other assessments unrelated to the financial statements, the FRF for SMEs might be a valuable option for the lenders who don't need the over reporting, rather, they're most interested in whether the company is in compliance with its loan covenants.
Bankers, as primary users of small business financial statements, will find FRF for SMEs helps them clearly understand creditworthiness of the business and its key measurements, including cash flows, liquidity, statement of financial position, strength and interest coverage.
The decision on whether or not to adopt the FRF for SMEs should be made together with the users of the financial statements. Since it is brand new framework; there is a lack of practical experience. Visit www.aicpa.org for additional information and education resources.