I Can't Believe It's Over
Stephanie – 2013 Tax Intern
From Emmaus, PA – Kutztown University Golden Bears
Completed her first half marathon this February
It feels like just yesterday was my first day coming into Herbein for orientation. I can still remember how nervous and excited I was to start this experience and now in the blink of an eye, it's over.
The amount of knowledge I have gained in the past few months is incredible. This internship is definitely going to be extremely useful for my future in public accounting. There are so many skills I have learned through hands on experience that are impossible to be taught in a classroom. Not only did I obtain experience and knowledge through this internship, but I've met some really amazing people.
I don't think I would have survived without Victoria and Joann (my fellow interns). The two of them were with me through this entire experience and I'm happy to say that I've made two new friends these past few months. The entire tax department has been absolutely amazing with making me feel welcome and a part of the team. Every single person I have met in this company is friendly, approachable, and more than willing to help.
I cannot thank Stacy and David enough for putting up with all of my questions and guiding me in the right direction. Their understanding of taxes has completely blown me away and I hope to one day be as knowledgeable as the two of them.
Finishing this internship is a huge accomplishment and I am so glad I was given this opportunity. The last few months have been incredible and I am very sad to leave this experience. Thank you so much to everyone at Herbein for making this so memorable! I hope this is not the last you will be seeing of me!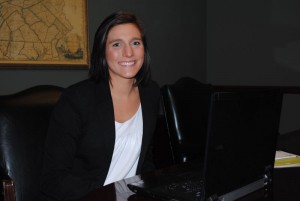 Stephanie Atkins, Herbein Tax Intern – Kutztown University