After My Internship
A Follow Up Post
Stephanie – 2013 Tax Intern
From Emmaus, PA – Kutztown University Golden Bears
Completed her first half marathon this February
I thought I should follow up with a little update for everyone... First of all, ending the internship was really sad for me. Even though I knew I was coming back to intern in the A&A department in the summer, it was still hard to leave the tax department after becoming so close with everyone.
Also, I have never felt as appreciated as I did when I received an email from a partner in the tax department thanking myself and the other interns for our help during tax season. I knew we were working our hardest and doing the best we could to get everything done quickly and correctly, but to hear that our work was appreciated made me feel absolutely amazing.
However, something else that day made me feel that much more appreciated and proud of what I had accomplished during the internship. It all happened during my 'internship review' with Stacy, Dave, and Bob on the Tax Day, the last day of the internship.
Seriously, the best of my life!! Not because the internship was over, but because it was the beginning of my career with Herbein! Yes, you understood that correctly. I got an offer for a full-time position in the A&A department starting after graduation in the summer of 2014. Obviously, I accepted.
I went into the review thinking that we would talk about things that went well, things that didn't go so hot, and just general closing thoughts about the last couple of months. Never did I think I would sit down and have a letter handed to me offering a me a REAL JOB for after graduation. The exact words out of my mouth were, "When do I say YES?!" I couldn't wait to sign my name and make myself an official part of the Herbein and Company team.
A few hours later, an email was sent out to everyone announcing myself and a two other interns had accepted offers. Walking around the office and later at the bowling alley for the Tax Day celebration almost every single person I walked past, even people I had never talked to before, congratulated me on the offer and success in the internship and welcomed me to the team. It was one of the best feelings to know that I had the support from the entire staff and that I would be working with these amazing people again in the near future!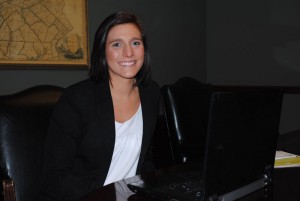 Stephanie Atkins, Herbein Tax Intern – Kutztown University