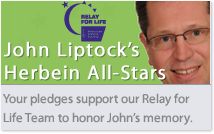 Herbein Joins 2013 Relay for Life of Berks County
Herbein is proud to announce our participation in this year's Relay for Life of Central Berks in memory of John J. Liptock.
This fundraiser will be held from Friday, May 17, 2013 at 6PM until Saturday, May 18, 2013 at 12 Noon at the Schuylkill Valley High School stadium. Everyone at Herbein takes this event very personally.
In 2011, our partner and friend John J. Liptock's courageous battle against cancer ended. The strength showed by John, his wife Justine and their sons David and Joe was truly inspiring. We'll never forget John's smile and positive attitude, his storytelling, his love of fishing, his compassion towards others, his sense of humor, and his love for his family and friends. The Liptocks will always be part of the Herbein family. We have formed John Liptock's Herbein All-Stars to make a difference by teaming up to participate in the American Cancer Society's Relay For Life. The team name is a little bit goofy and definitely tongue-in-cheek, but we think John would have appreciated it!
As we did last year, our team will camp out overnight and take turns walking around the track to raise money and awareness for the American Cancer Society. Nobody will be walking alone, though. Everyone's life has been touched by cancer, and Herbein + Company wants to help the American Cancer Society create a world with less cancer and more birthdays. Saving lives from cancer starts one team, one participant, and one dollar at a time.
Our team is doing our part to kick cancer's butt. Please consider supporting John Liptock's Herbein All-Stars. The impact we can make together is much greater than what any of us could do alone! We're doing it for John and everyone who has been taken too soon by cancer, as well as for all of the survivors - our team is thrilled to include survivors! Follow us as we work together to reach our goal. Click the links below for additional information.
John Liptock's Herbein All-Stars Team Page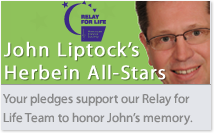 Questions? Contact our team captain Roxanne N. McMurtry at [email protected] or 610.378.1175.